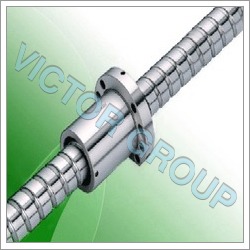 Hiwin L M Guide-hgh-15 20 25 35 45 55 65 ca-ha
Product Code : 93
Product Description
Hiwin HGH Series 15 20 25 30 35 40 45 55 65 ca /Hgh 15 20 25 30 35 40 45 55 65 ha
Linear Guideways

A linear guideway facilitates linear movement using ball bearings. Thanks to the use of

ball bearings between the rail and the block, it is possible for a linear guideway to

achieve extremely precise linear movement. In comparison with a conventional guide

rail, the friction coefficient is only one fiftieth. Due to the restricted guidance of the

block on the rail the linear guideway can carry loads in vertical and horizontal
directions.
Linear Guideway Series HG

4-row recirculating ball bearing guide

45° contact angle of the ball tracks

High load capacity in all installation positions

High rigidity

Block types
HIWIN offers square blocks and flange blocks for its linear guideways. The low

assembly height and larger installation surface makes flange blocks more suitable for

heavy loads.

HIWIN HGW Series Flange type 15 20 25 35 45 55 65 CC-HC
HGW
Four row for super heavy load

Applications:
Machining centers

Machine tools

Heavy cutting machines

Grinding machines

Injection molding machine

Automatic equipment

High speed transfer device
Hiwin HGH Series 15 20 25 30 35 40 45 55 65 ca /Hgh 15 20 25 30 35 40 45 55 65 ha
Linear Guideways

A linear guideway facilitates linear movement using ball bearings. Thanks to the use of

ball bearings between the rail and the block, it is possible for a linear guideway to

achieve extremely precise linear movement. In comparison with a conventional guide

rail, the friction coefficient is only one fiftieth. Due to the restricted guidance of the

block on the rail the linear guideway can carry loads in vertical and horizontal
directions.
Linear Guideway Series HG

4-row recirculating ball bearing guide

45° contact angle of the ball tracks

High load capacity in all installation positions

High rigidity

Block types
HIWIN offers square blocks and flange blocks for its linear guideways. The low

assembly height and larger installation surface makes flange blocks more suitable for

heavy loads.

HIWIN HGW Series Flange type 15 20 25 35 45 55 65 CC-HC
HGW
Four row for super heavy load

Applications:
Machining centers

Machine tools

Heavy cutting machines

Grinding machines

Injection molding machine

Automatic equipment

High speed transfer device