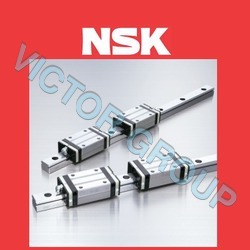 NSK LH Series 15 20 25 30 35 45 55 65 AN AL BN BL
Product Code : 65
Product Description
NSK LH Series 15 20 25 30 35 45 55 65 AN AL BN BL EL GL FL
Item Code: Nsk_Lh_Series
NSK LH Series 15 20 25 30 35 45 55 65 AN AL BN BL
NSK LH/LS Series Linear Guides:
These self-aligning, high load capacity ball guides offer interchangeable parts and are ideal for any factory automation application. Rails and ball slides do not have to be purchased as a set, reducing replacement costs and making standardization much easier. Linear rails can be butted together for applications requiring extra long travel lengths. Gothic arch groove and contact angle of ball produces low friction and increased displacement on this linear guide.
LH/LS Series linear guides feature:
Interchangeable carriages with ball retainer system
Universal mounting holes for flange type carriages
Available in stainless steel